For NYCxDESIGN, the Eames Institute lands in New York City with a street-facing design exhibit at Herman Miller's Park Avenue flagship.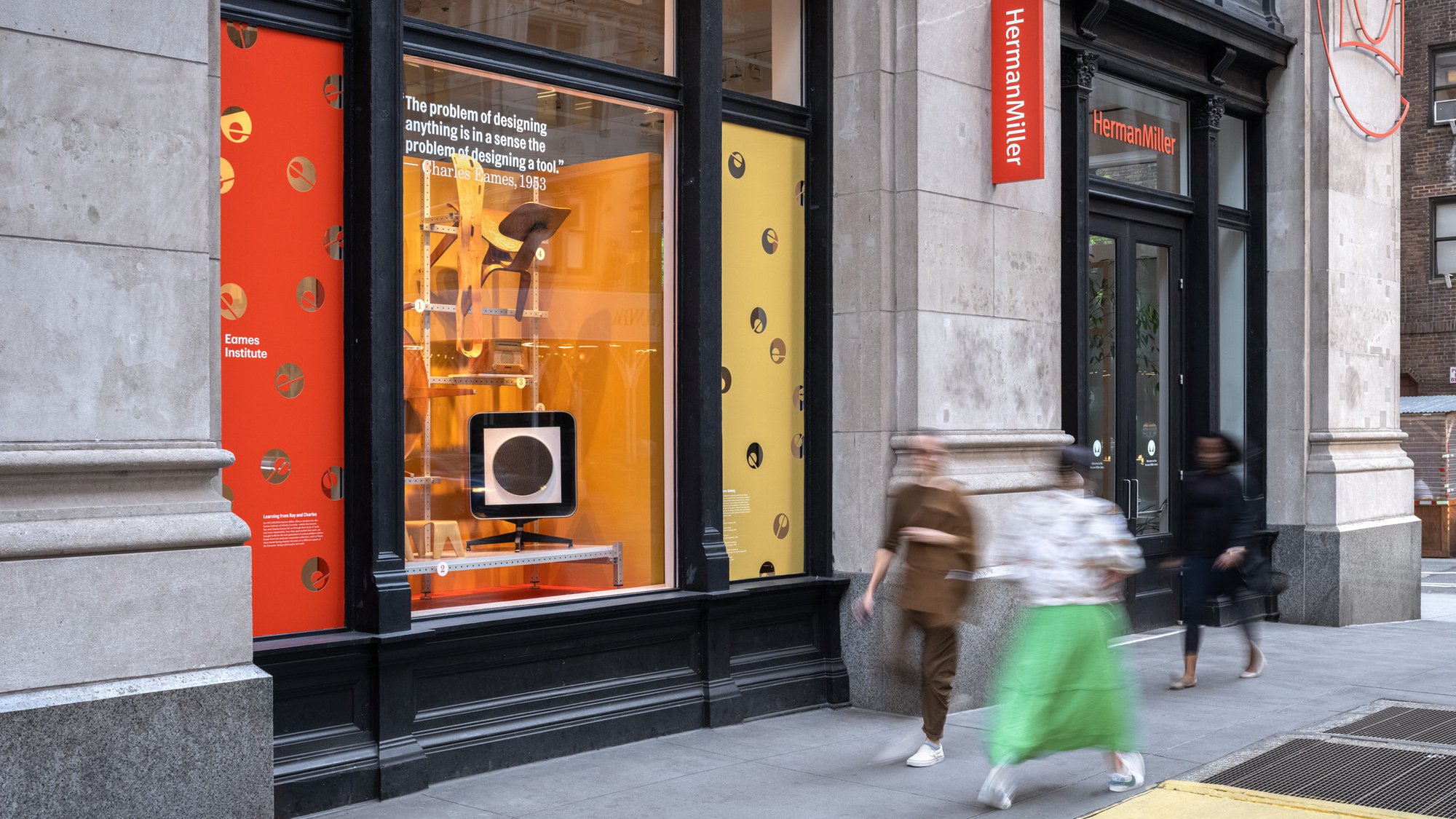 The Eameses had a long history of using street-facing presentations to impart information and inspiration to passersby—from an iconic Carson Pirie Scott window display for the inaugural Good Design exhibition in 1950, to a series of educational exhibits for IBM's Display Center on Madison Avenue in New York City. Using this legacy as a starting point, the Eames Institute recently teamed up with Brooklyn-based Standard Issue Design to create a series of three window displays for Herman Miller's New York City flagship at 251 Park Avenue South. Drawn from the Institute's expansive collection, each of these three street-facing exhibits focuses on a different aspect of the Eameses' design philosophy and craft, and will temporarily be on display through June 15, 2022.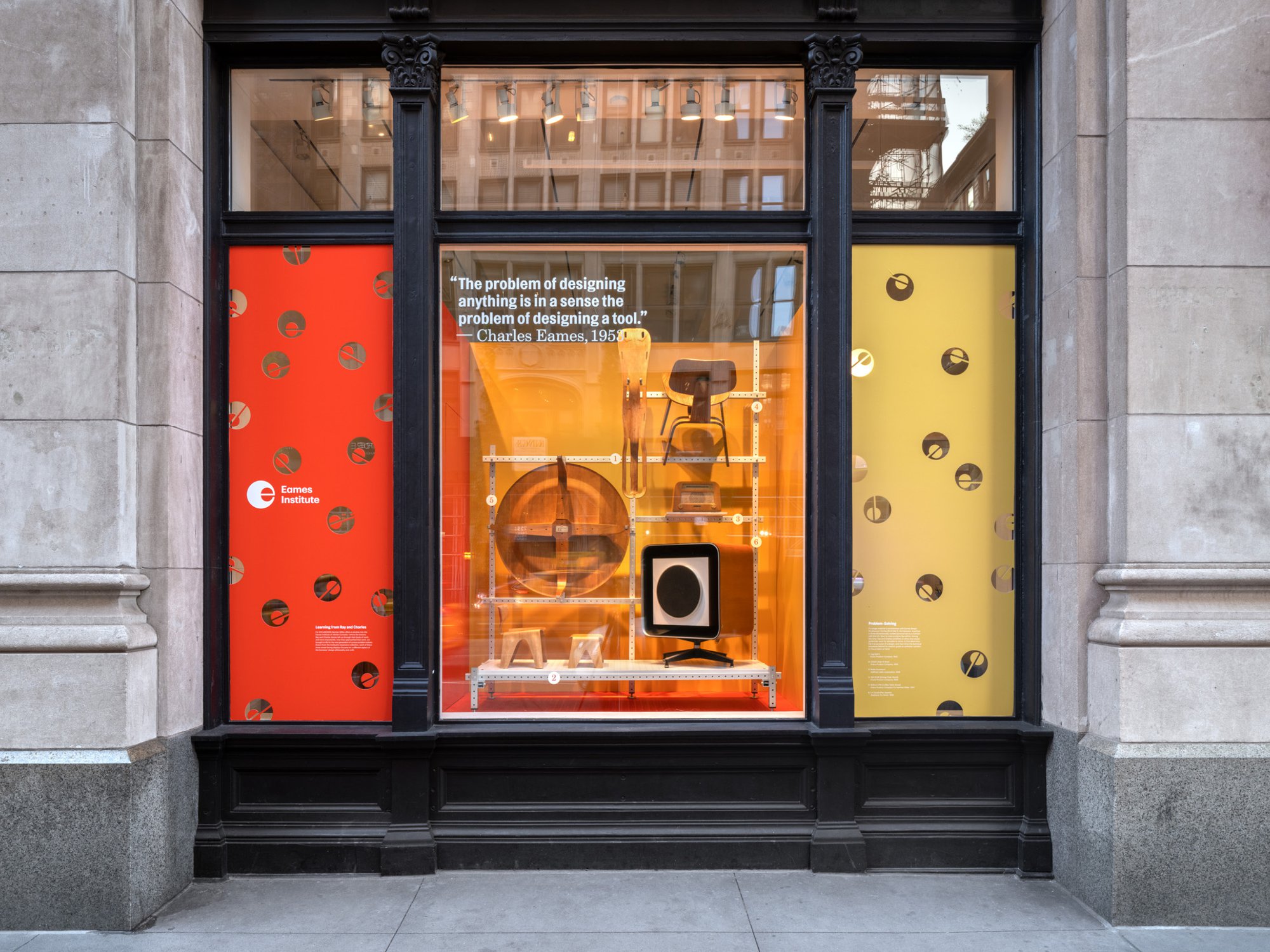 As the Eameses sought to design "the best, for the most, for the least," molded plywood provided the solution to a wide range of problems.
If a single material is synonymous with Eames design, it's plywood. During World War II, the Eameses' expertise in three-dimensionally molded plywood led to a contract with the U.S. Navy to mass produce leg splints. During this time, Ray and Charles solidified an ethos that would guide their work for decades to come: to first determine the true purpose of a design, and then allow the technical processes behind its creation to guide an authentic solution to the problem at hand. This window features projects realized in molded plywood, ranging from an original 1942 leg splint, to a 1946 radio enclosure for the Hoffman Radio Corporation, to a rarely seen 1956 E-4 Quadraflex Speaker for Stephens Tru-Sonic. The display also showcases early examples of plywood furniture including a child's chair and stool, an ash dining chair, and a walnut coffee table.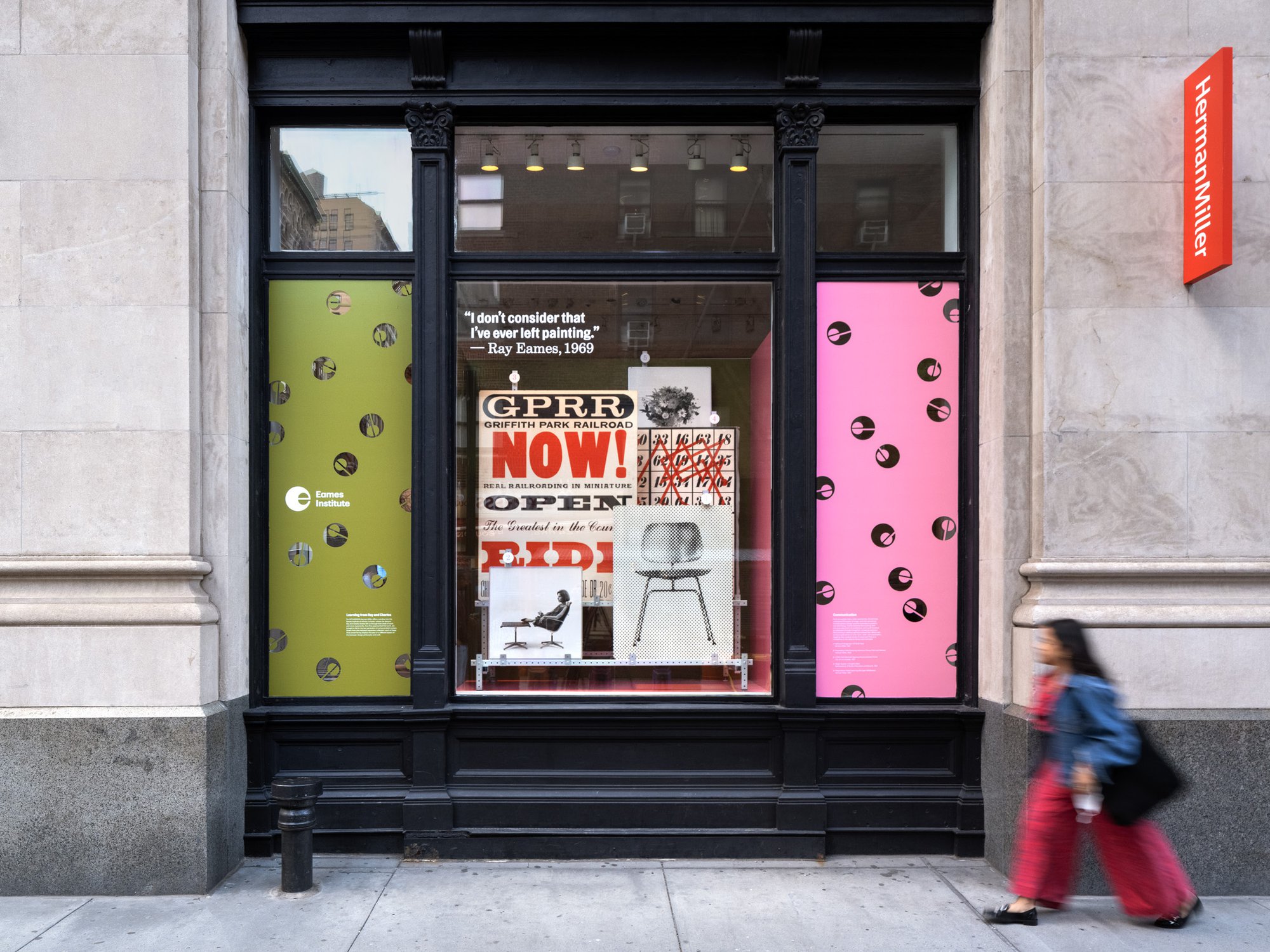 The Eameses saw graphics, photography, and film through a relatively simple lens—as tools to get across ideas. 
From the earliest days of their partnership, the Eameses understood the power of image, and their pioneering multidisciplinary design practice extended to graphics and advertising. Charles believed that anything with structure was a form of architecture, and could therefore be addressed through thoughtful, contextual solutions. Ray's training in abstract painting imbued their efforts with intuitive applications of color, form, scale, and composition. Together they created a body of visual work that is as compelling as the subjects being communicated. The items on display include a one-of-a-kind poster for the opening of the Griffith Park Railroad in 1957, a hand-painted graphic from Mathematica: A World of Numbers and Beyond, and a 1960 halftone print of an arrangement of Michigan wildflowers (flown overnight on ice to the Eames Office from Zeeland, Michigan, to be arranged and photographed for Herman Miller's first stock certificate).
The Eameses did so much to establish what design means—not just at Herman Miller, but in general—and seeing these artifacts reminds us of why their work remains so vital today.
Amy Auscherman
Director of Archives and Brand Heritage
MillerKnoll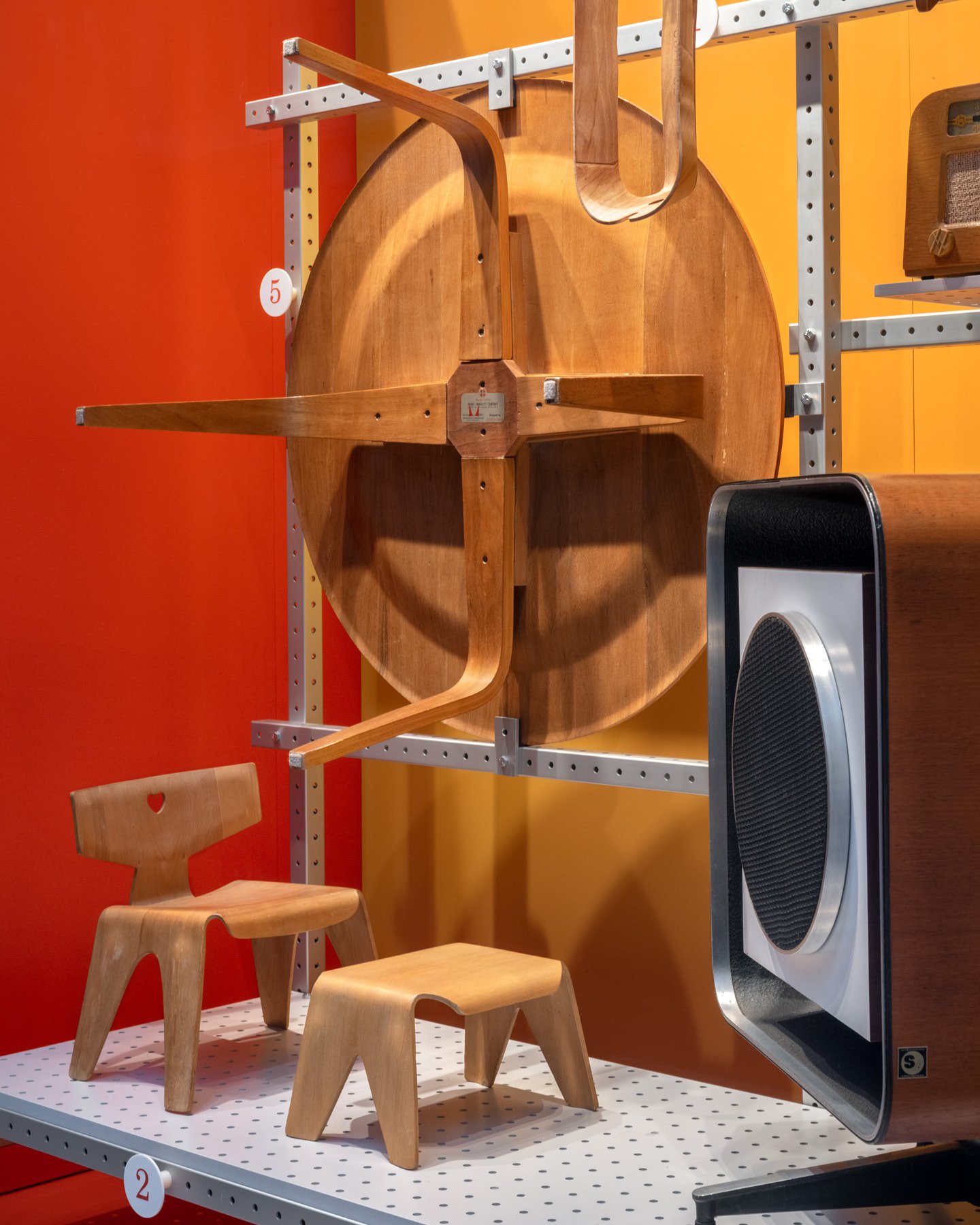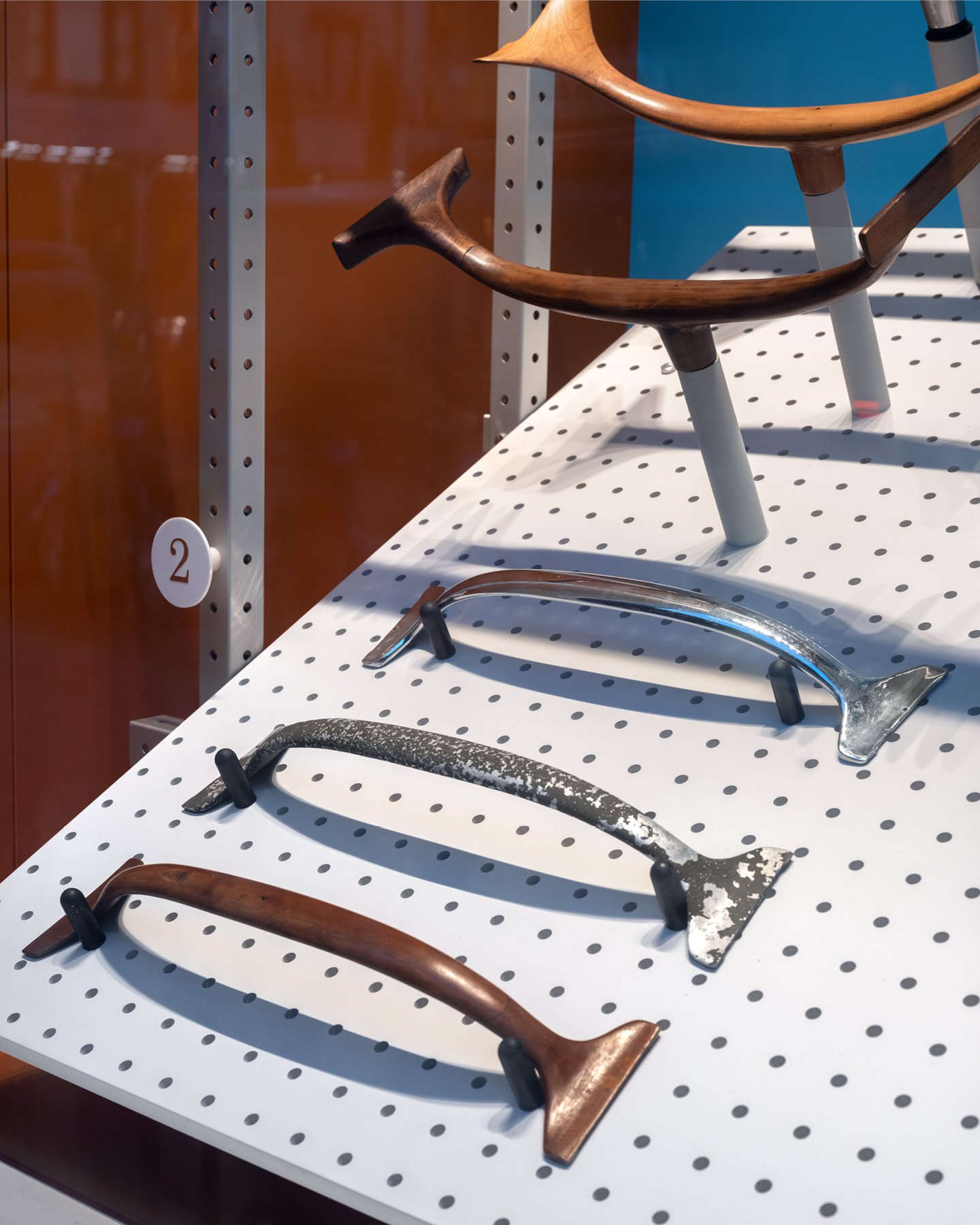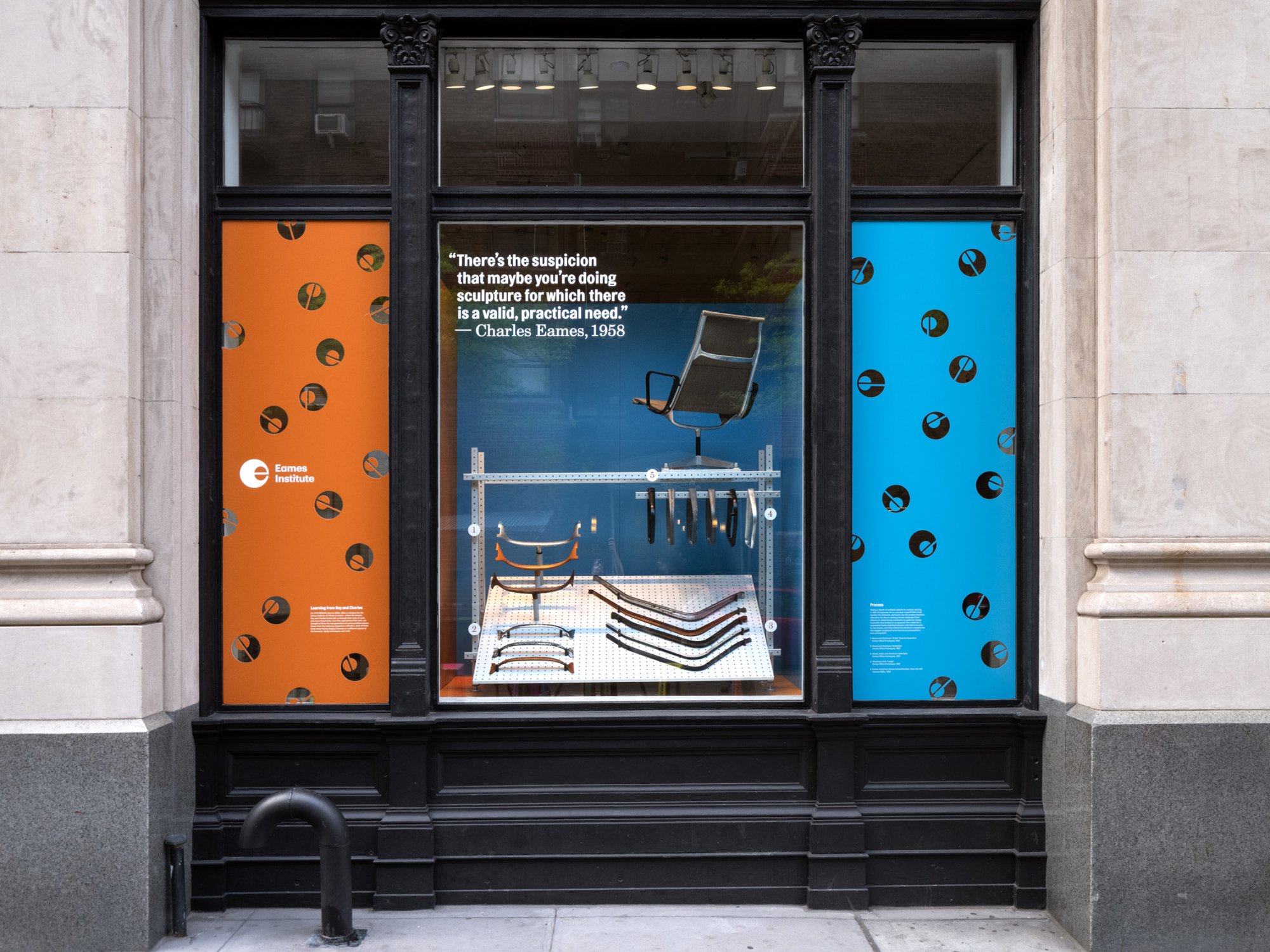 A deep involvement in the iterative process—working through every possible idea in sequence and in combination—was the "trick" behind the Eameses' approach to design.
Noting a dearth of available options for outdoor seating, in 1957 the Eameses hit on a modern material that could weather the elements: aluminum. But the endless flexibility offered by the alloy's casting process challenged their reliance on determining constraints to guide the design. Eventually they landed on an approach that called for a suspended textile stretched between rails held in tension by two braces, and then refined the aluminum components into elegant, sculptural forms that are as purposeful as they are beautiful. This display includes a range of prototype components made in the Eames Office over the course of the Aluminum Group Chair's development. The objects show how they moved from hard-carved wood models, to rough sketches in bent steel and molded aluminum. A very early production model of the final design features a saran textile for the outdoors developed with Alexander Girard.  ❤