Working in tandem with seasonal cycles, artist Natalie Stopka creates pigments and dyes from plants, then captures nature's dynamism in her art.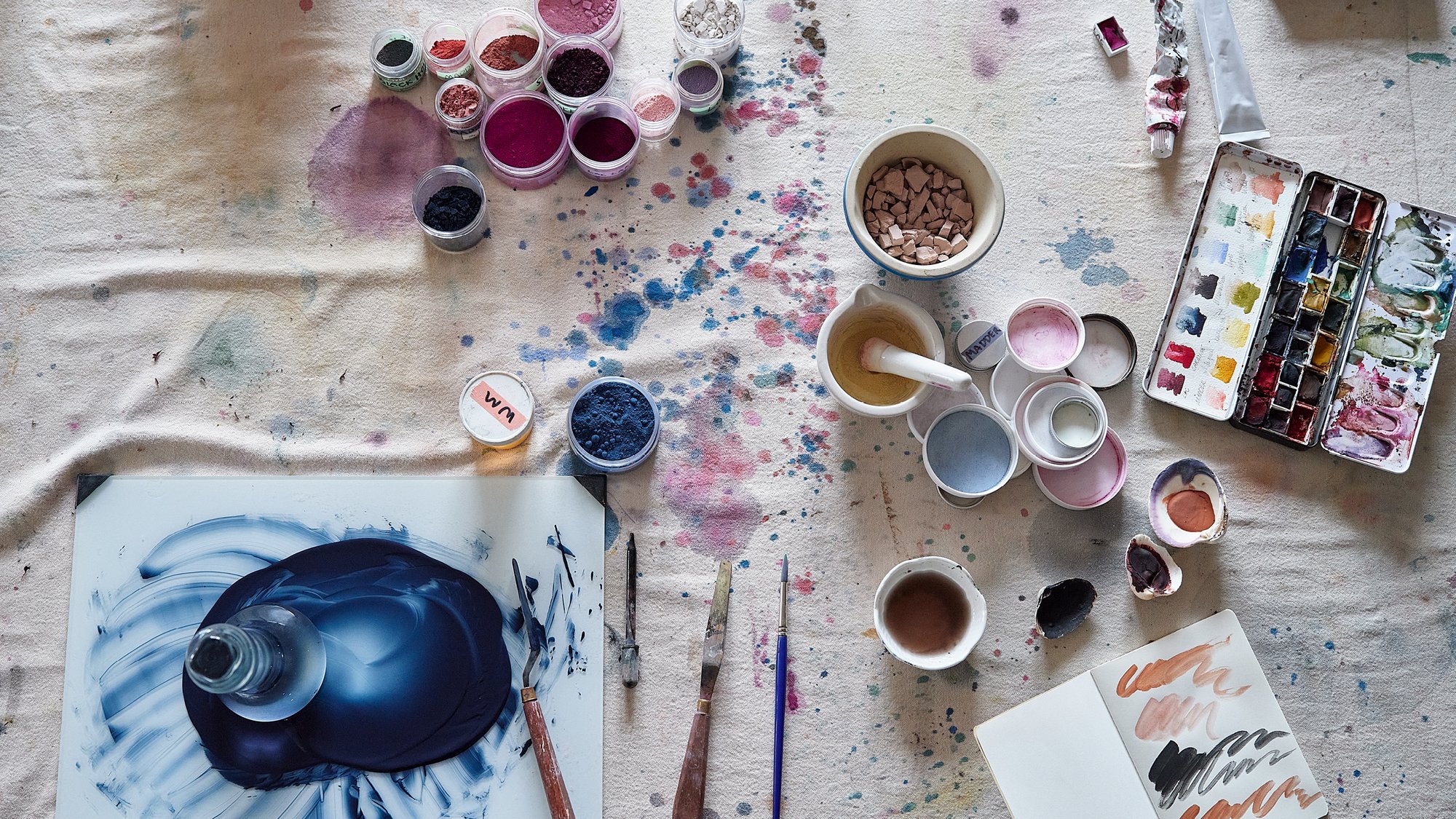 A glimpse of watercolor production at Natalie Stopka's studio shows pigments, grinding slab and muller, paint pans, and paint swatches.
Natalie Stopka's works on paper and textiles are entirely abstract, and yet seem to transmit essential measures of the earth—its rhythms, cycles, and mutability. Those lyrical qualities are an expression of her medium and materials. During the past few years, Stopka has been mastering the use of botanically derived colorants in paper marbling, a technique named for the geological-looking patterns it yields. Her layered veils of natural color feel simultaneously terrestrial and atmospheric, ephemeral and timeless, dynamic yet static.
Stopka's artmaking process begins when seeds hit soil. To create her art, she works primarily with colorants that she extracts from plants grown in her organic garden high above the Hudson River in Yonkers, New York, or foraged in upstate New York's Ulster County. One look at the dusky blues and earthy magentas of her work, and it's clear that her colors are not from a tube of manufactured paint. "Natural colorants are weirder and more interesting, and harmonize in beautiful and unusual ways—like notes in a minor chord," says the artist, who has derived colorants from hollyhock, weld, pokeberries, madder, and indigo, among other plants. "They aren't usually the pure prismatic colors that sit around the perimeter of the color wheel; each natural hue is composed of several different colorants."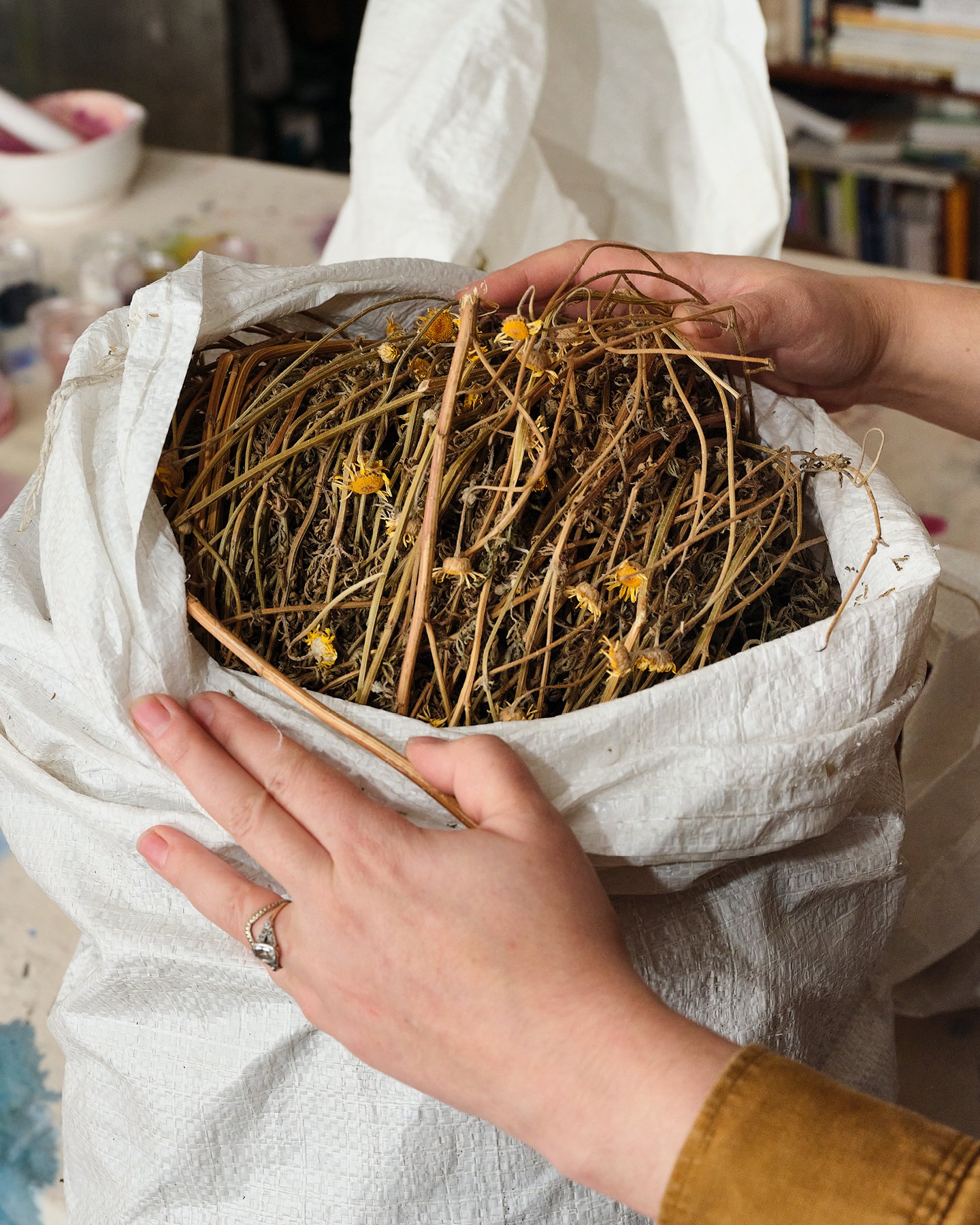 The marbling technique entails dropping blobs of paint into a liquid surface thickened with carrageenan and allowing patterns to form (passively or actively), then gently lowering a substrate—usually paper or fabric—atop the floating, fleeting designs to make a unique print. While most artists use acrylic paints in the centuries-old process, Stopka is one of the few to use natural pigments. After harvesting her raw materials and extracting the colorants, she turns them into dyes and rich translucent paints. Weld leaves and flowers transform into lemon yellows; hollyhock blossoms can yield purples, blues, grays, or greens. The process of transmutation—first, extracting colors and then rendering fluid patterns into art—is inherently unpredictable, and requires Stopka to embrace experimentation and the unknown.
In an era when we take pigment for granted—when we can choose a multiplicity of colors while staring into screens that show a billion options—Stopka's vocabulary stands in stark contrast to the saturated, digitally precise hues our eyes are so used to seeing. By returning her palette to the natural origins of color, she's not only tapping into an unconventional aesthetic, but invoking larger cultural forces at work. "The history of color is a history of economy and trade," she says. Centuries ago, as the market for minerals, plants, and other substances expanded the availability of raw materials to artisans in various locales, the spectrum shifted, too. Stopka connects color to a context that is often erased nowadays, when colors are synthetically produced.
It's not surprising to learn that Stopka's creative practice is deeply grounded in nature, from its landscape and geology to its seasons and weather. Her embrace of horticulture is inseparable from her quest for a sustainable zero-waste practice. While she does purchase inks and other ingredients for her marbling work, she salvages materials from the waste stream and strives to utilize all the raw materials and leftovers of her production process. She rotates crops to optimize soil health organically; encourages biodiversity in her garden even while managing pests; and forages reciprocally, replacing invasive species like yellow flag irises with native plants or those that will benefit pollinators, for instance.
Stopka's use of botanical colorants is also bound up with her aesthetic vision, and driven by a desire to deeply engage with her landscape and materials. "My focus is on forging a respectful relationship with my surrounding ecosystem—taking or growing only what I can use and accessing the remarkable and expressive properties of materials that must be grown rather than bought," says the artist, who grew up near New Bedford, Massachusetts, in a family of artists, and graduated from RISD with a BFA in illustration in 2007.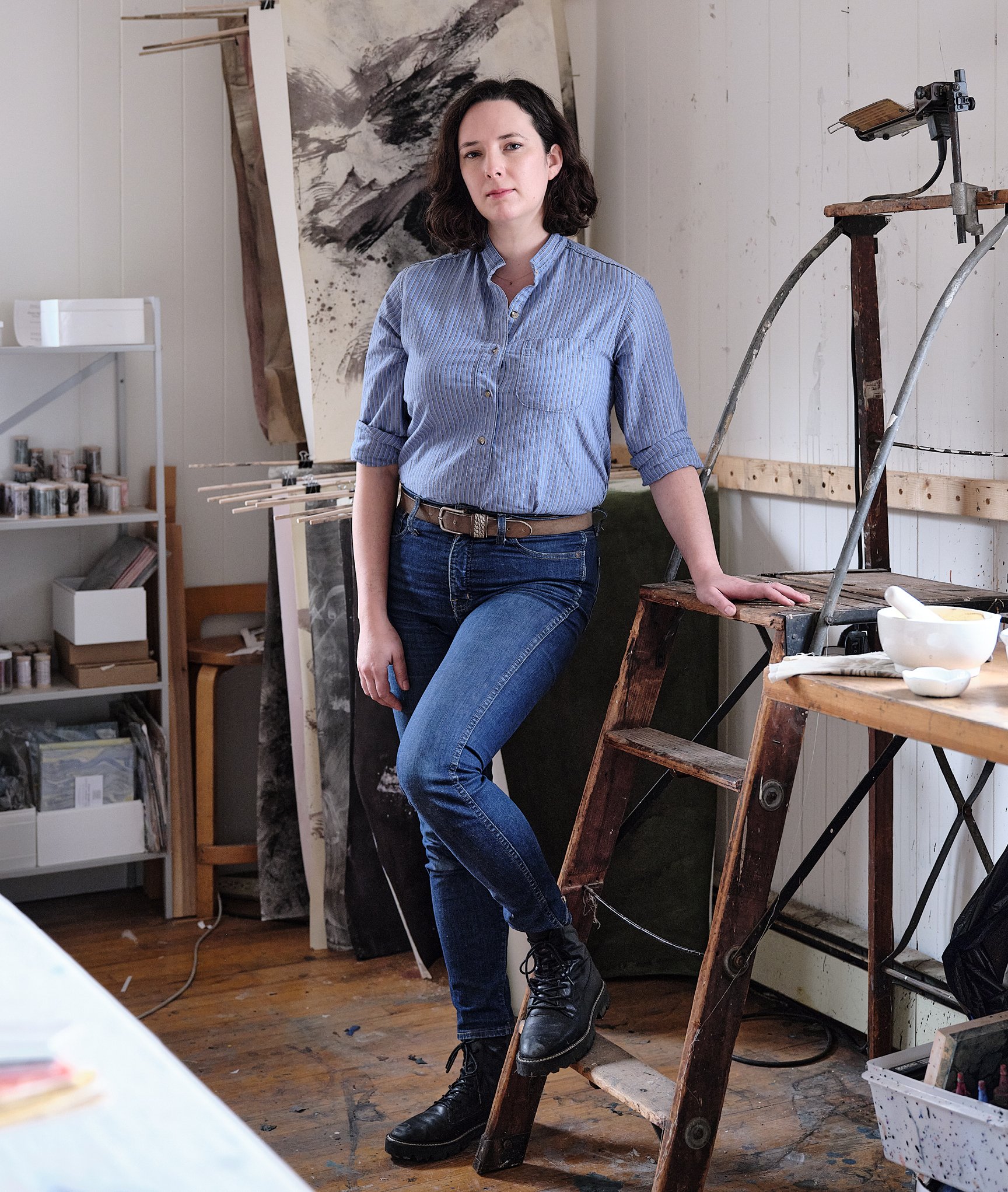 You work in collaboration with your materials and set up a situation where you allow something interesting to emerge.
Natalie Stopka
Artist and Educator
Stopka, whose workspace is part art studio, part chemistry lab, first took a marbling class while studying at the Center for Book Arts in Manhattan. She subsequently began using the technique in her professional practice. Her natural dyes offer aesthetic and ecological advantages but also present obstacles: in the water-filled tray that is used to create prints, the dyes are soluble and sink, rather than clinging to the surface in aqueous patterns. But after much trial and error, experimentation and research—including a deep dive into artistic treatises from 14th- through 18th-century Europe—Stopka revived the art of transmuting the natural dyes into rich powdery pigments with the addition of a mordant, such as alum, to give the colorants substance. The resulting pigments can then be turned into a viscous paint and dropped into the water. (Artists like Vermeer and Titian famously used "lake pigments," as they are known, to add luminosity and richness to their oil paintings.)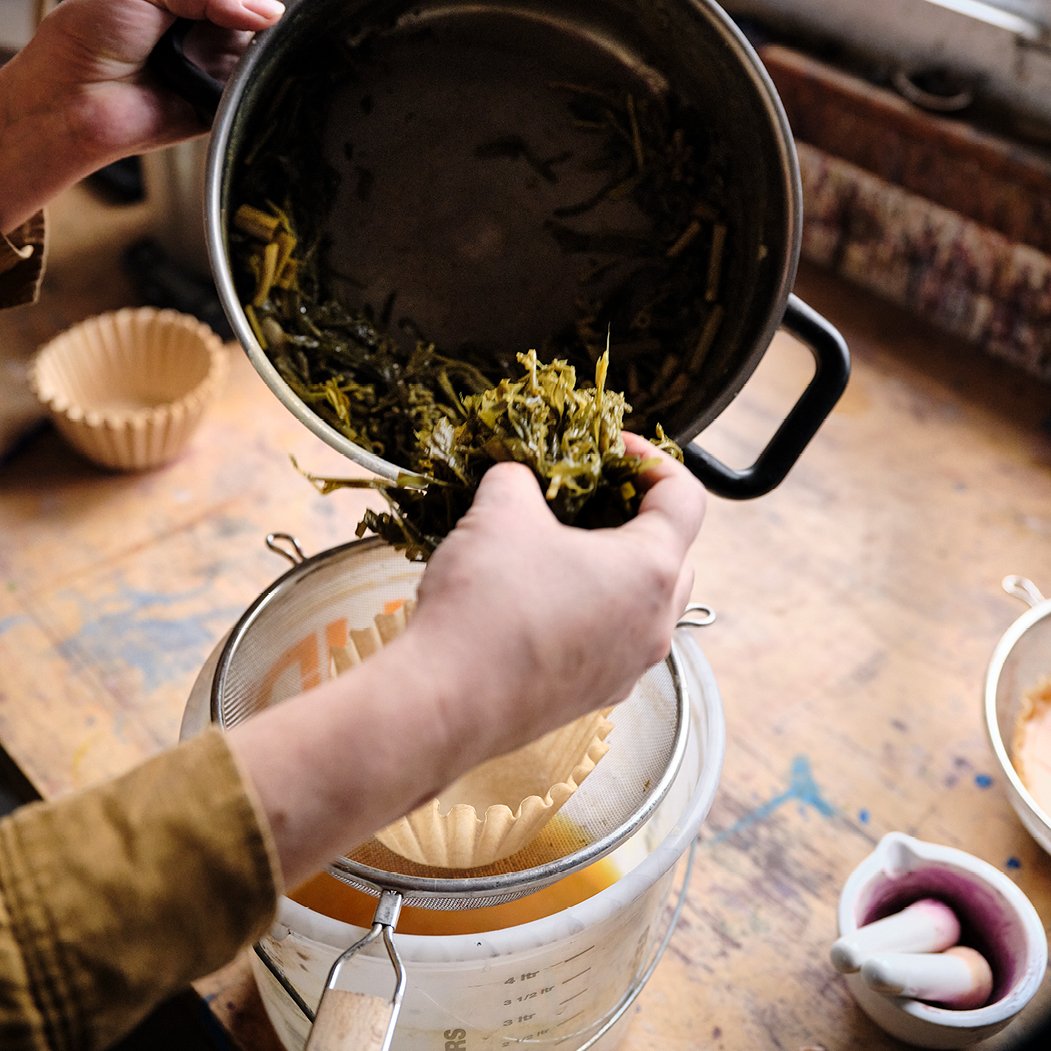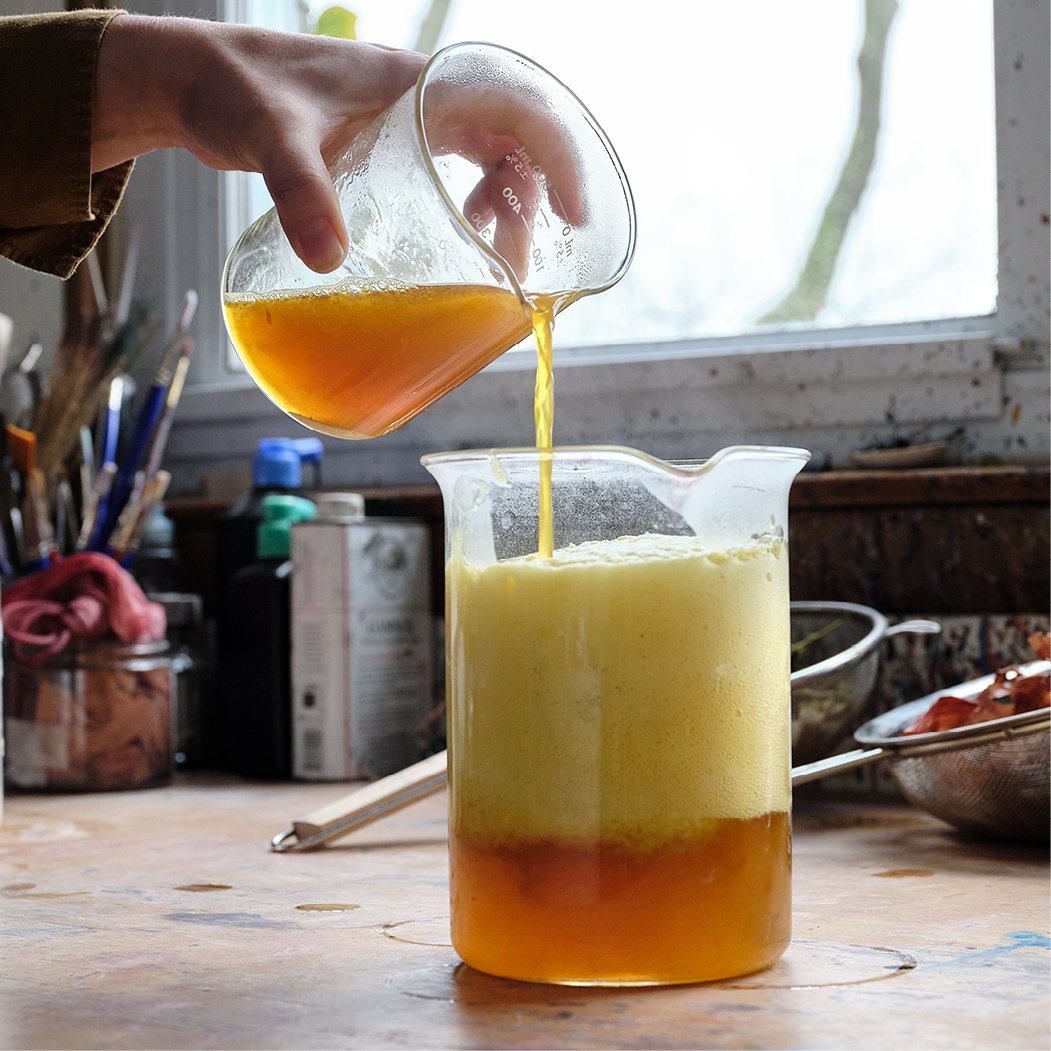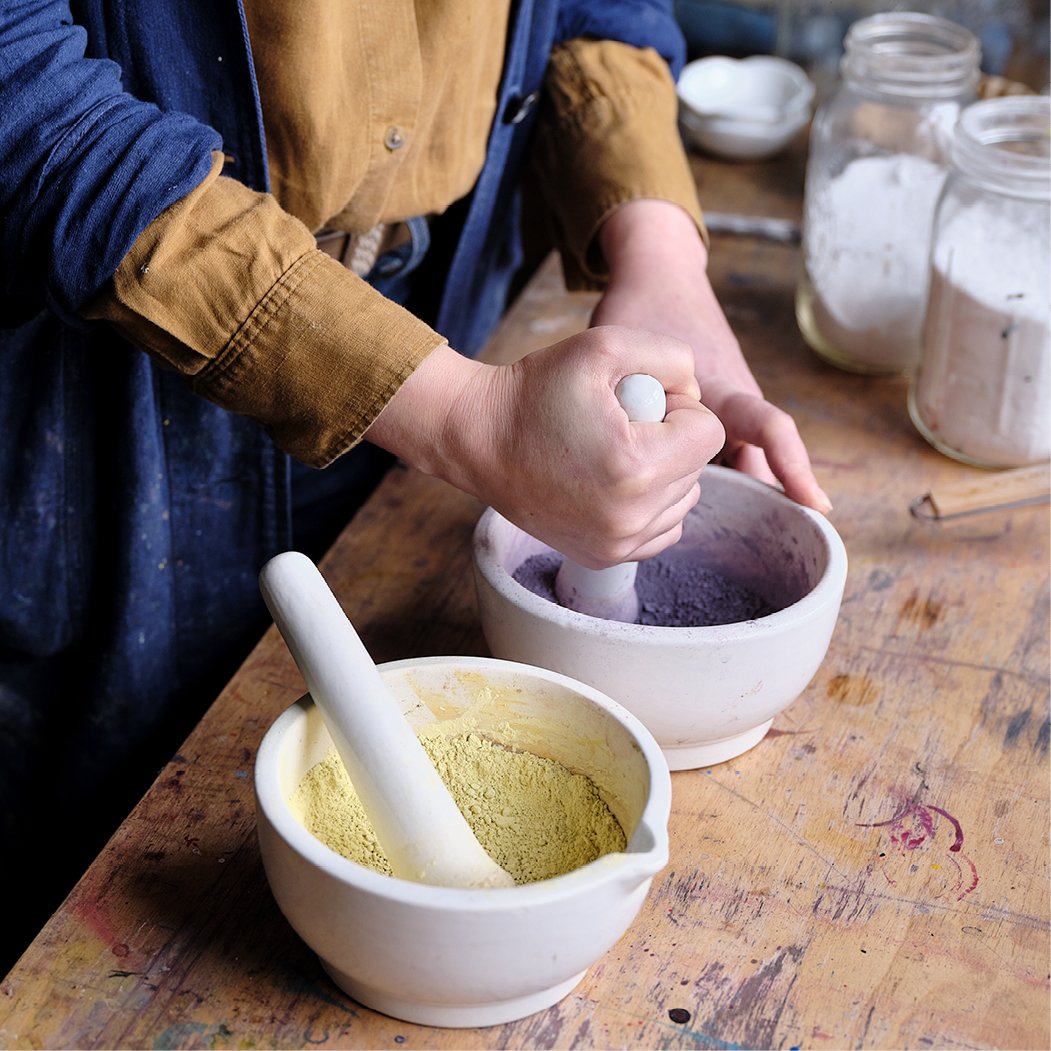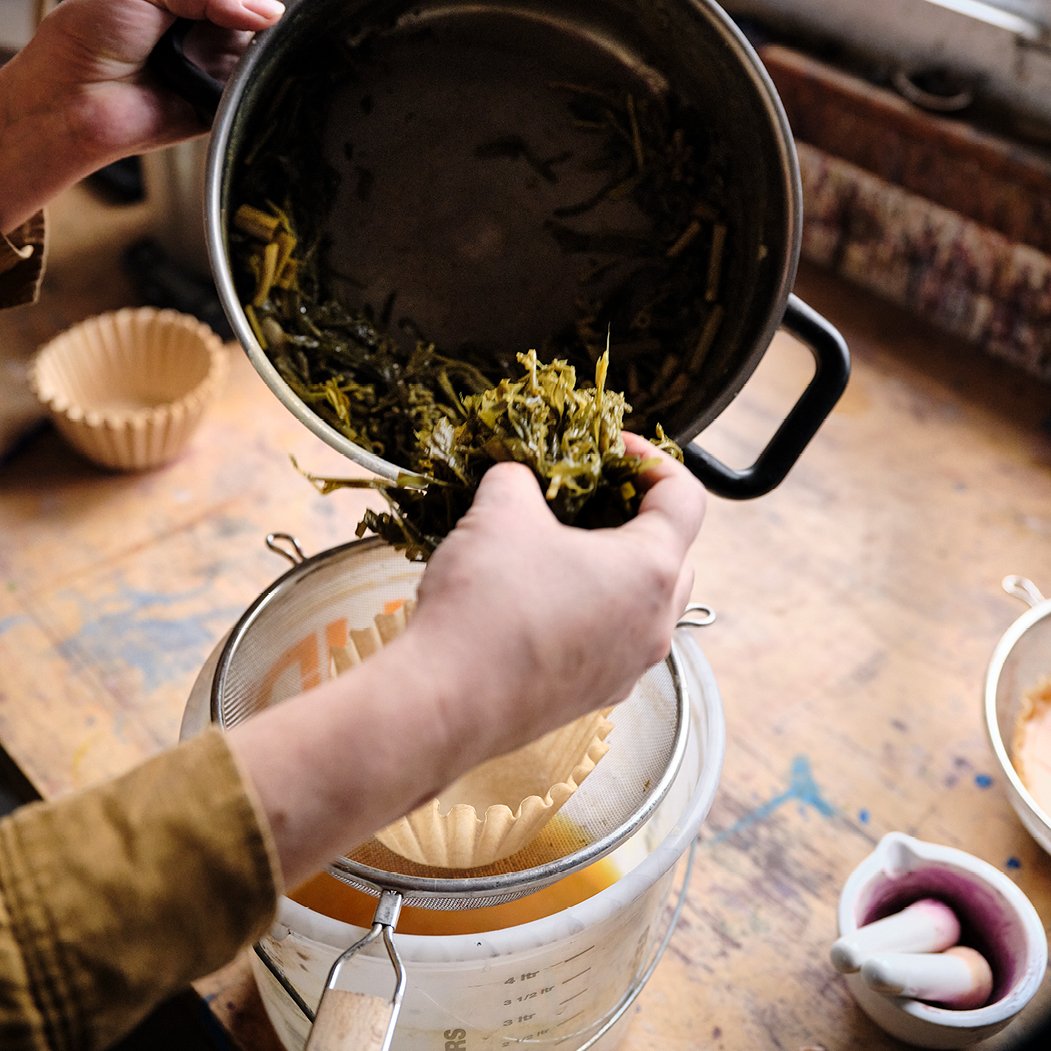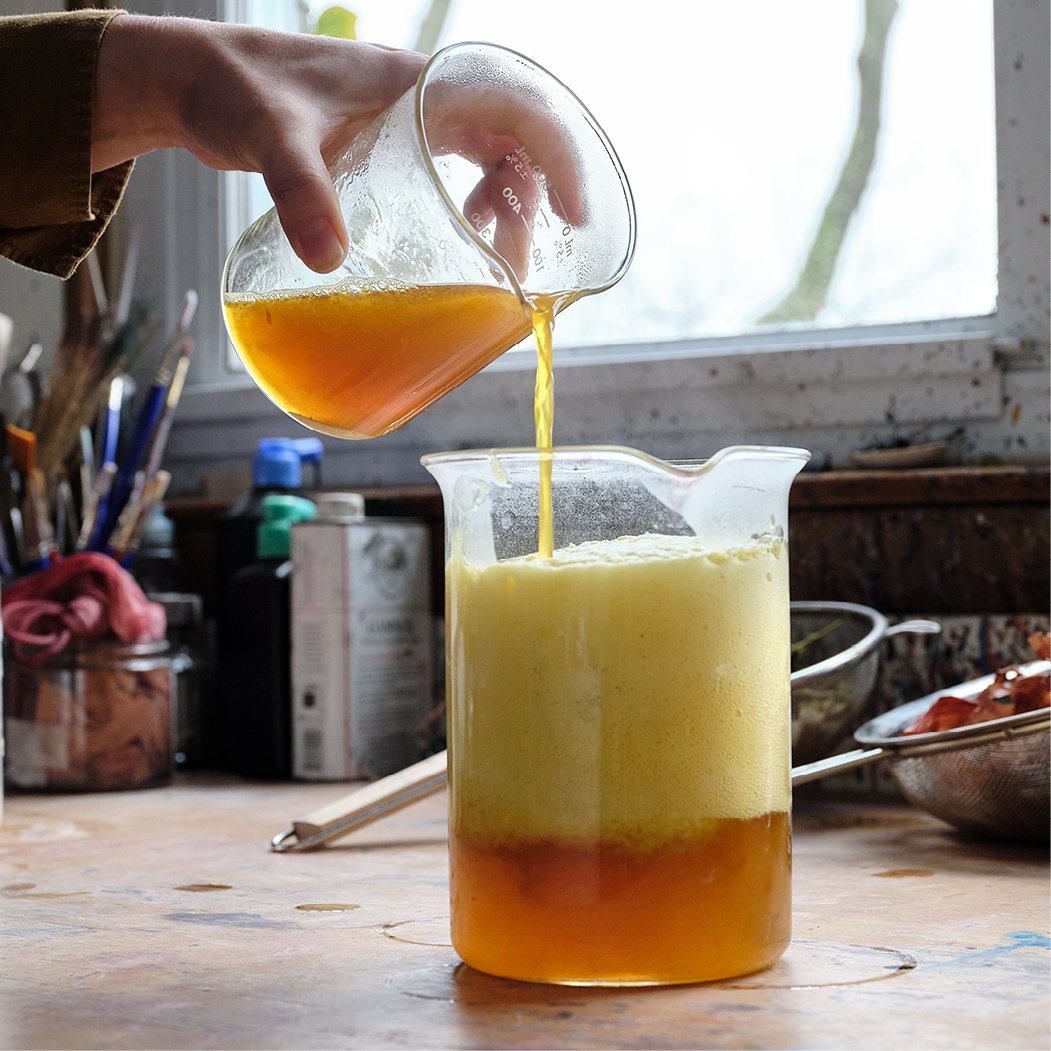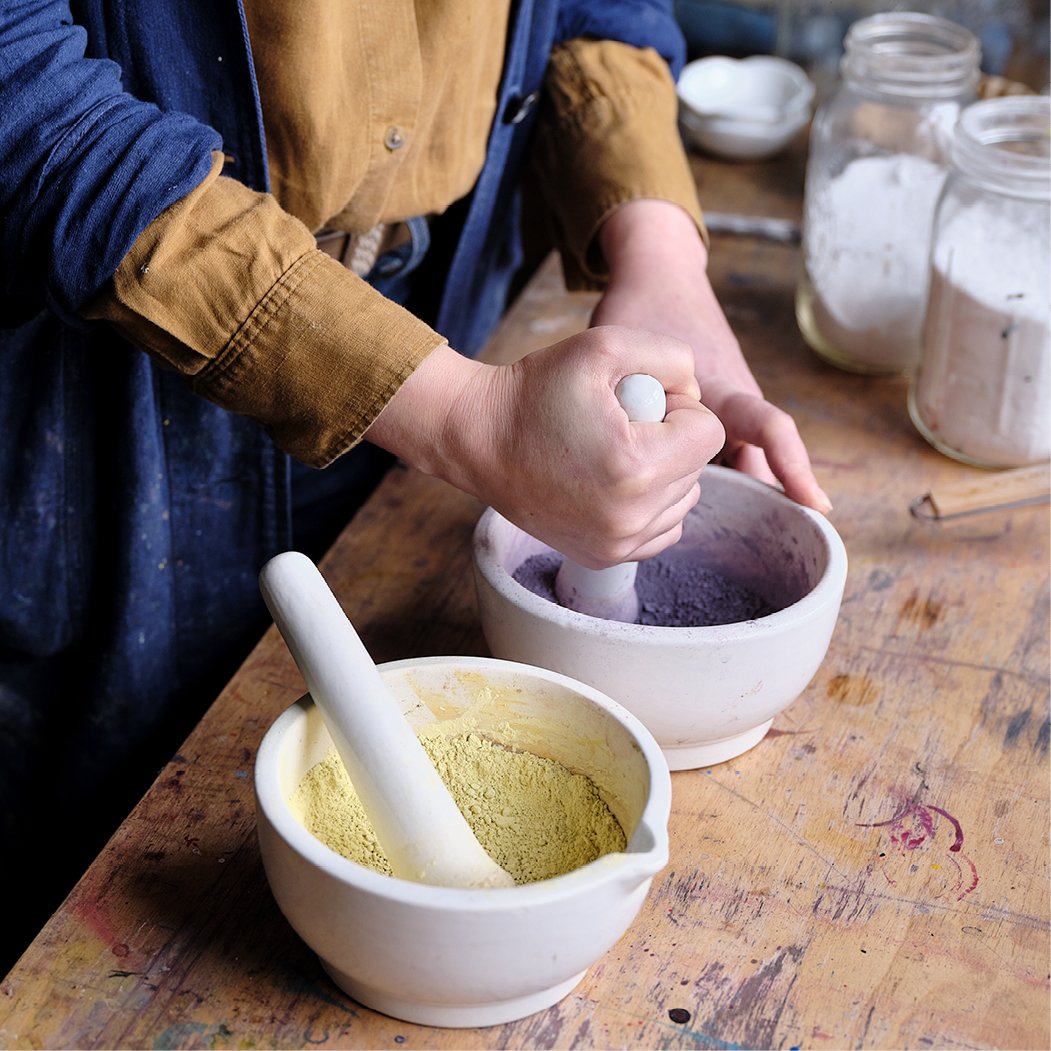 She also practices the traditional Japanese art of suminagashi (literally "ink floating"), dropping ink into water to form patterns of concentric rings that invoke topographies, tree rings, coastlines, and zoology. The ink patterns change quickly, reacting to barely perceptible forces like air currents, temperature, and surrounding vibrations, and the artist is never entirely sure what pattern she'll catch on paper. "You're not just setting out to express yourself. You don't have a design in mind, and if you do, it is going to be thwarted," she says. "Instead, you work in collaboration with your materials and set up a situation where you allow something interesting to emerge." Some of her suminagashi artworks look like layers of rock, while others convey the energy of the ocean.
In studying both the European and Japanese traditions, Stopka gained an awareness of the distinctive design vocabularies that emerged in disparate cultures. The European tradition, controlled and precise, aims to generate a specific pattern. The Japanese artform is more fluid, reactive, and unpredictable. But both marbling and suminagashi require relinquishing a certain amount of control to let the materials capture the moment. Stopka embraces that uncertainty, freely giving in to forces like temperature, humidity, and gravity.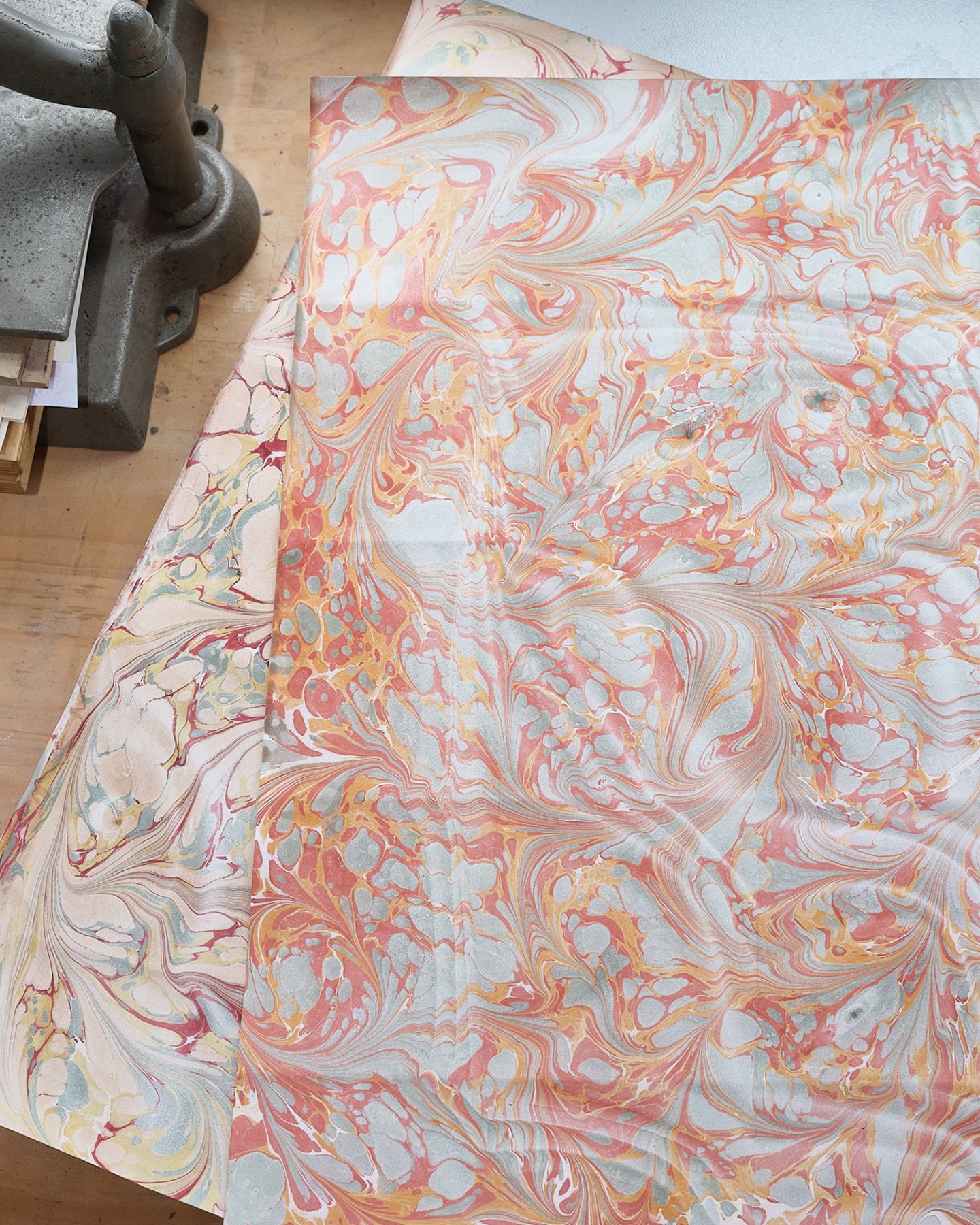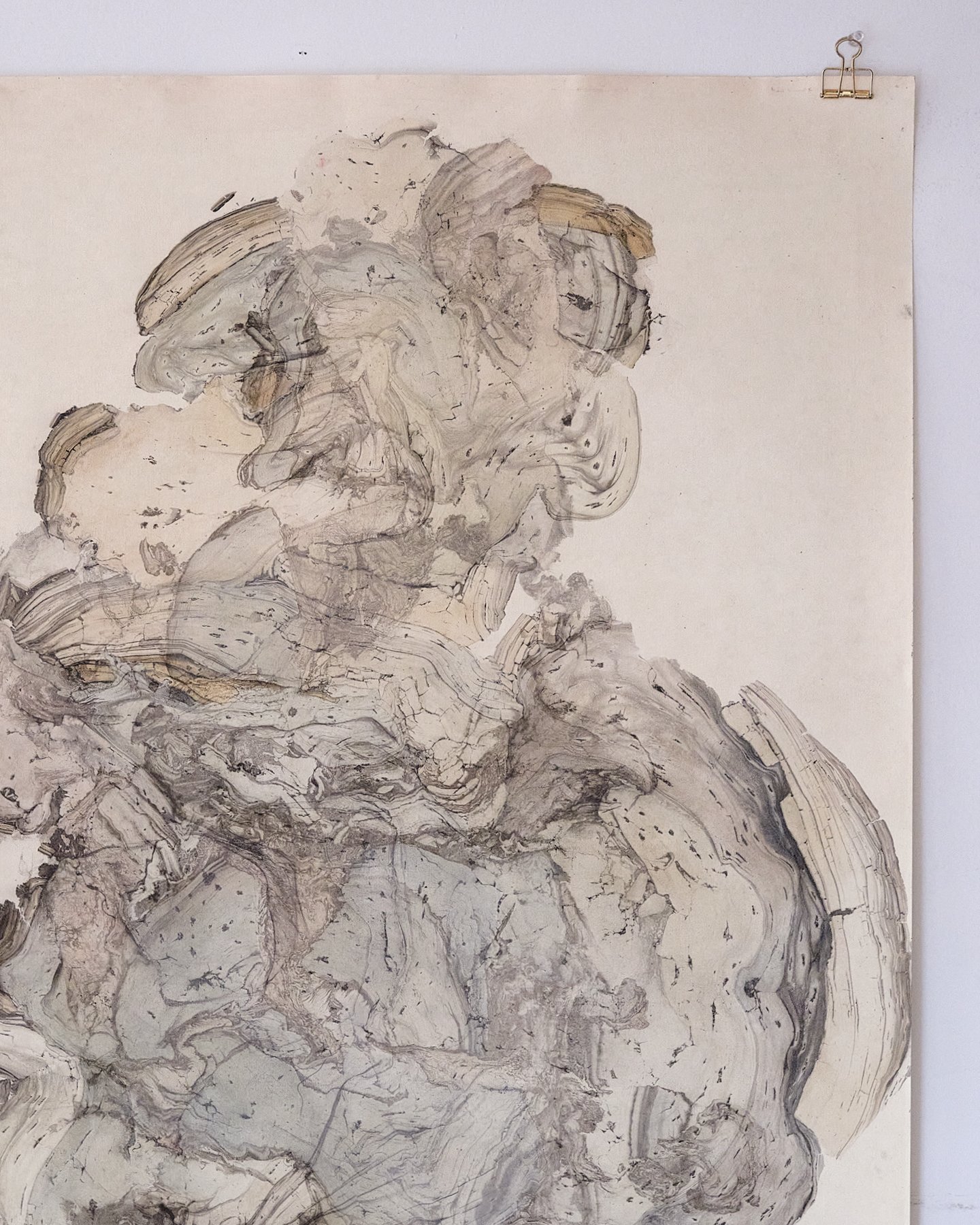 Her materials can be even less predictable than her process. "The natural chemical additives change the behaviors of the paints and inks in the marbling tray," she explains. "Alum, alcohol, varnish, honey, and other additives affect the viscosity, drying time, surface tension, and flow to create new vocabularies of visual texture." She talks about evoking a sense of wabi-sabi—the Japanese notion that there is beauty in imperfection and impermanence.
That's a good attitude to have as a gardener, too, especially one whose crops are central to the outcome of her art. The plants are inherently unpredictable, and the artist is never entirely sure what hues she'll coax from them. Each batch she harvests and processes is an index of the environmental influences that year. "Plants have up to 20 different colorant compounds, and all of those go through a cycle with the growing season," she explains. "Weather, rainfall, and the mineral content of the earth all play a factor, just like terroir with wine. You can get different shades depending on the year, the time they're harvested, and the part of the plant used."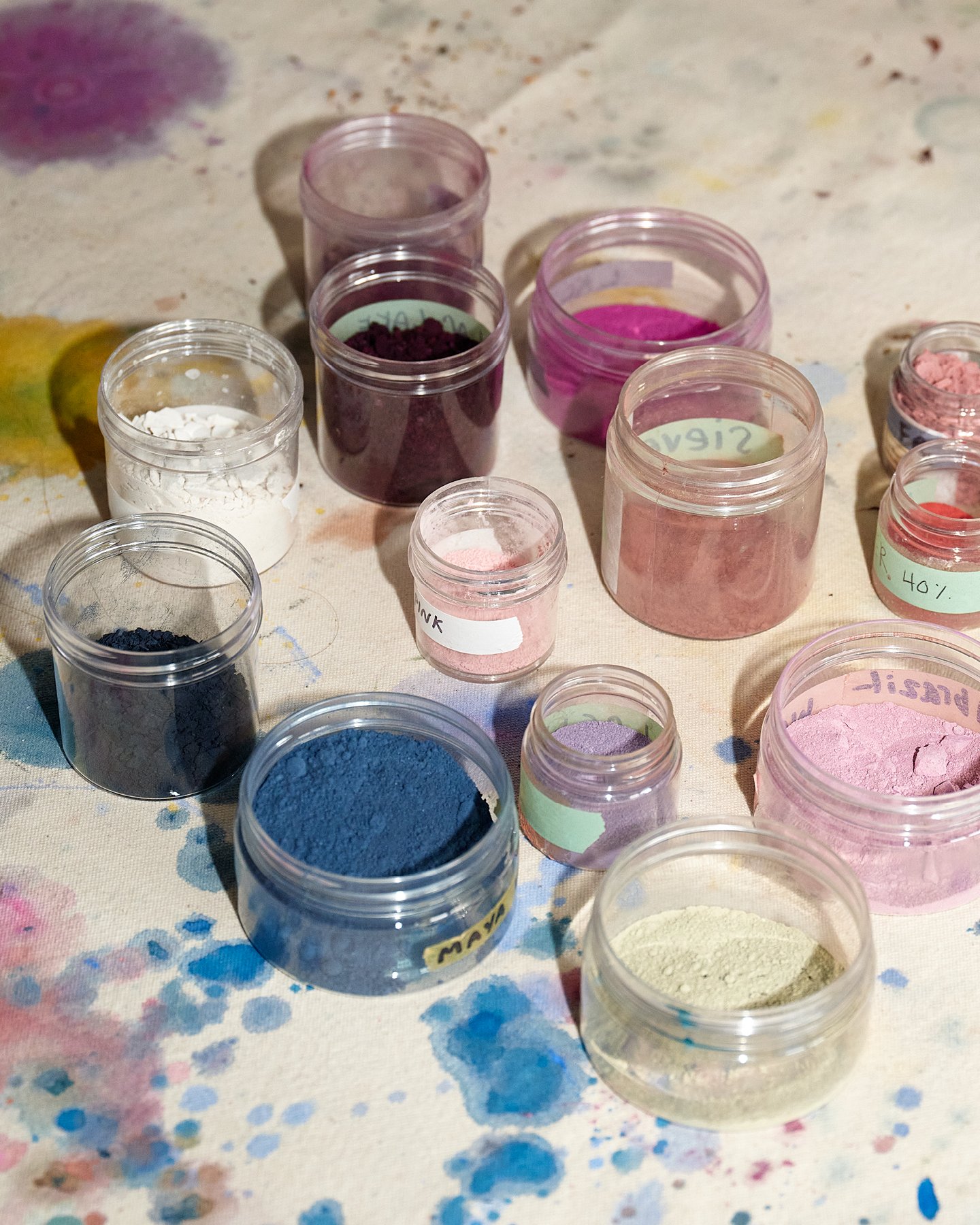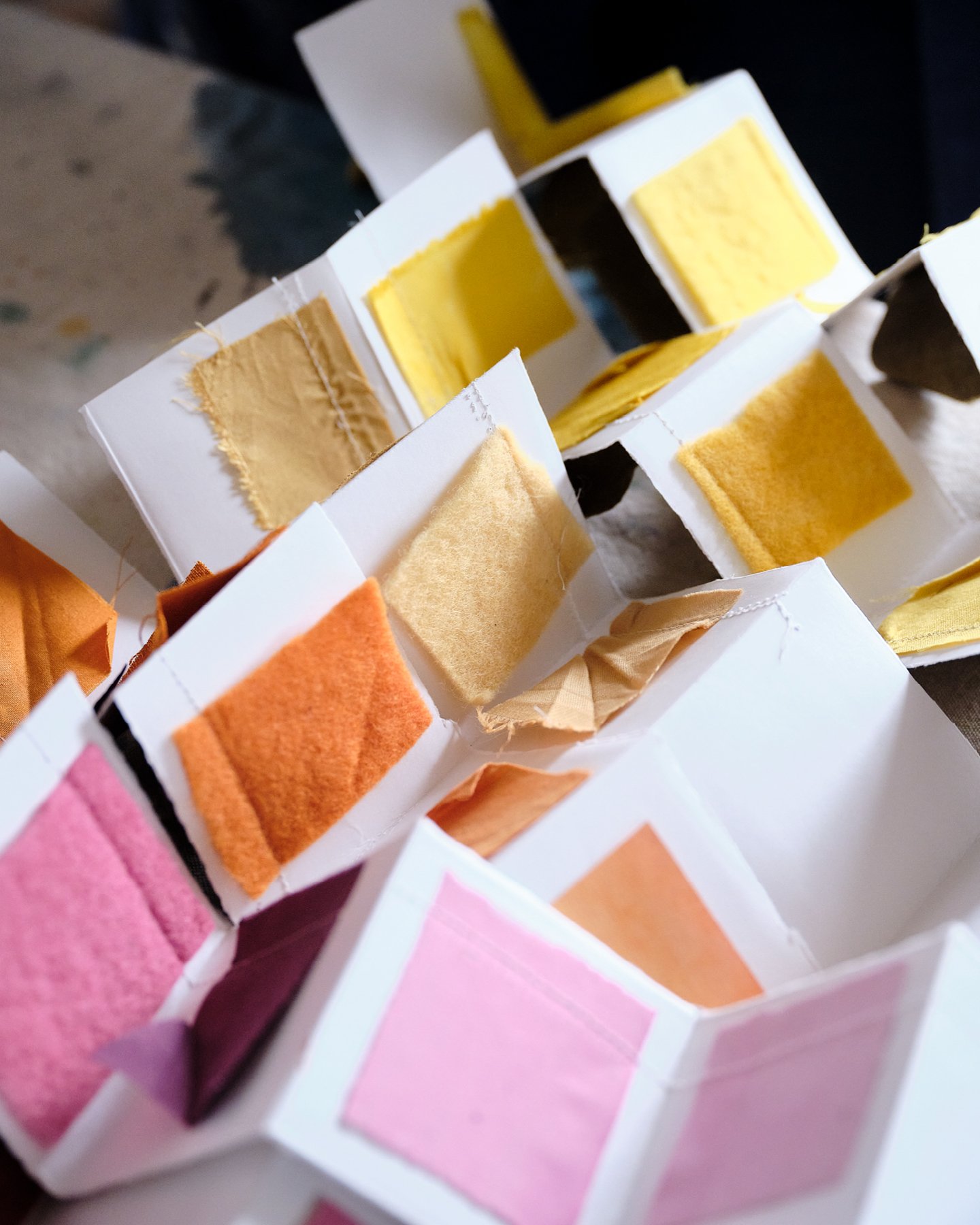 Stopka is intent on pushing her practice further, and is currently working on her MFA in interdisciplinary art and regenerative culture in the Nomad program at the University of Hartford—a field-based course of study that interweaves art, civic engagement, and ecology. "We've been talking about how art can be allied with and supportive of so many important issues, from food sovereignty and climate change to social justice," she notes. The program is also deepening her engagement with permaculture and reciprocal foraging, she says, and providing opportunities to explore the "cultural history and traditional ecological knowledge underpinning the plants and processes" she works with. Stopka is one of the only artists in the program who hangs things on a wall. "I guess I'm old-fashioned that way," she jokes.
Lately, Stopka has been exploring especially unconventional ways to use her materials. For a recent tryptic, she dipped a velvet rag in pigment and threw it at paper, resulting in vaguely winglike, fluttering forms. She intentionally destabilized the paper with ferrous sulfate and then applied a black pigment and a purplish sumac, which will eventually eat through the paper. "It's a conservator's worst nightmare," she says. "But how amazing to have artwork that changes over time." The act of making art that purposely self-destructs subverts nearly every convention of the museum and gallery—but is also a fitting parallel to the earth's own processes and mysteries. ❤
At Kazam! Magazine we believe design has the power to change the world. Our stories feature people, projects, and ideas that are shaping a better tomorrow.