With designs that interweave story and structure, Sir David Adjaye's buildings articulate the moment, honor the past, and guide us into the future.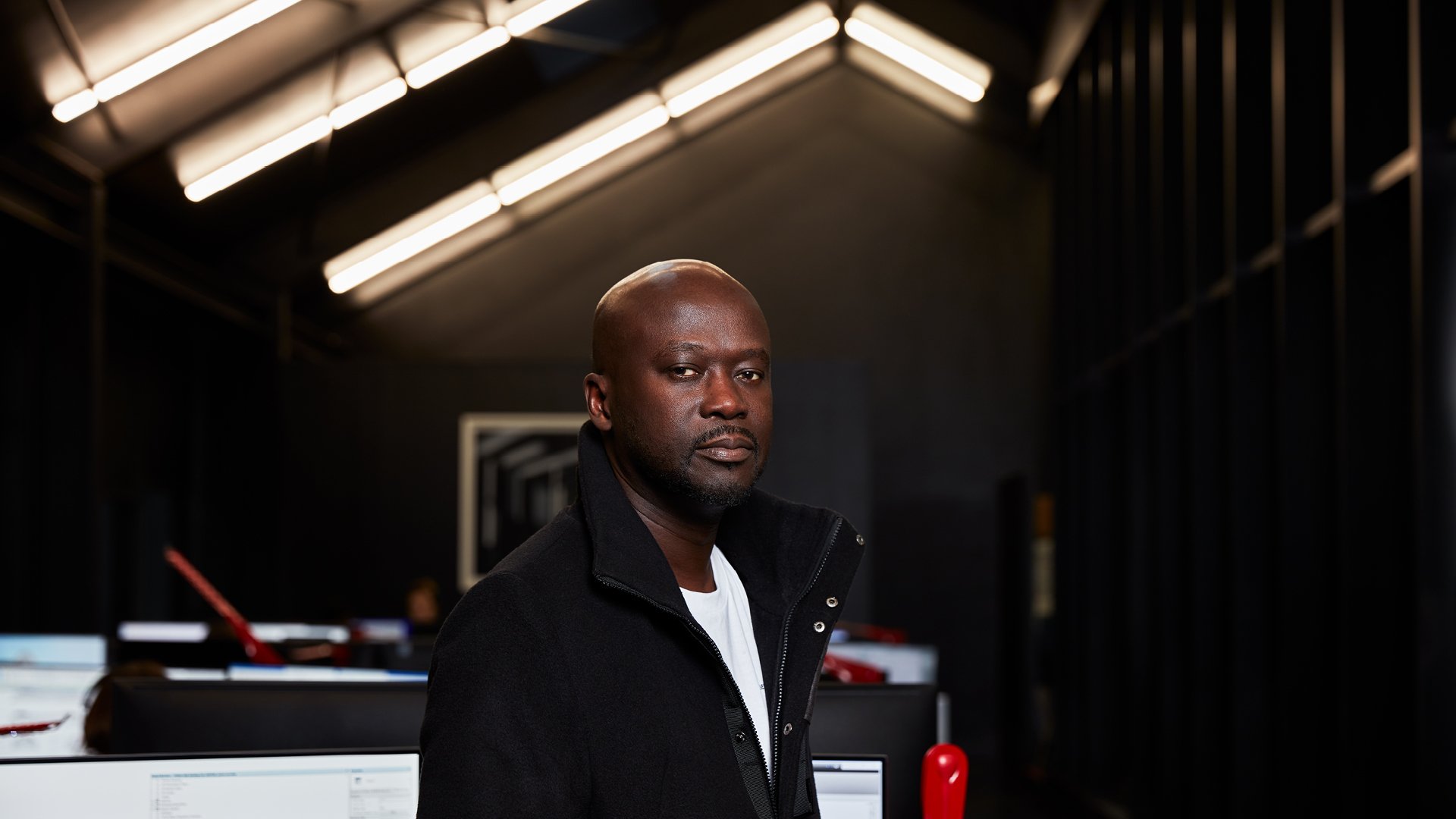 David Adjaye in Adjaye Associates' London Studio, where the firm purpose-built its office in an existing Art Deco building. © Ed Reeves
Sir David Adjaye is an architect of evocation. With his buildings and structures, he creates moments of breath, of pause, of contemplation, of beauty. Rooted in metaphor and storytelling, his spaces are full of meaning. They invite introspection. Abstract artworks unto themselves, and at the same time highly functional, his richly layered constructions can be interpreted, appreciated, and experienced in a multitude of ways.
Ever since starting his firm, Adjaye Associates, in 2000—and even before that, as a master's student at London's Royal College of Art in the early '90s—a central component of his work has been about choosing, using, and combining materials to create expressive environments that elevate people and help lead to greater awareness of the world around us. From the Sugar Hill mixed-use development (2015) in Harlem to the Winter Park Library & Events Center (2021) in Florida, Adjaye's architecture brings dignity, not only to those who live or work in his buildings, but also to those who visit them or encounter them at a distance.
Adjaye's first two public structures, called Idea Stores and located in the London Borough of Tower Hamlets, were early signifiers of his special skill for crafting architecture that's sensitive, and connective, to its surroundings—literally and figuratively. Completed in 2004 and 2005, the Idea Stores are civic spaces that provide a forum for local residents to take classes, meet, attend events, borrow books, and more. Located in retail districts, the buildings—in a subtle nod to the striped awning material common of the neighboring market stalls—feature patterned glass cladding tinted in shades of green and blue. Rethinking what a library of the 21st century could be, Adjaye took the notion of an "Idea Store" and embedded it into the very fabric of the two buildings: These are spaces that combine the pragmatic function and form of a library with the approachability of a storefront. Passersby are encouraged to "shop" for ideas there. This is vibrant, engaging architecture. It beckons. At both locations, escalators lead visitors up from street-level entrances, and at one site, the escalator lands directly on the sidewalk—a barrier-free portal from city to library. Both Idea Stores establish a profound presence on the cityscape.
Throughout his work, which tends to be civic-oriented, Adjaye facilitates powerful connections—and in the case of the Piety Bridge and Wharf (2014) on the New Orleans waterfront, he is, quite literally, a bridge builder. Made of weathering steel, the structure stretches over train tracks to create a symbolic entryway that connects Crescent Park, a post–Hurricane Katrina riverside greenspace, with the city's Bywater neighborhood. As with all of Adjaye's designs, the bridge is, in effect, a portal. In this case, it binds land and river, city and park, and people and nature. Rising up toward the sky, it is a deeply grounded, uplifting structure.
Adjaye brought a similar sensibility to his monumental form of the Smithsonian National Museum of African American History and Culture (2016) in Washington, DC. From the inside, the bronze-colored building subtly gazes down on the National Mall through a patterned screen that loosely references ironwork made by enslaved peoples in the American South. From the outside, the building practically rises up toward the heavens. Sinewy and porous in form, with a three-tiered shape inspired by Yoruban art from West Africa, the NMAAHC simultaneously acknowledges, remembers, reflects, grieves, honors, and celebrates. An apt embodiment of the objects it holds and the history it reveals, the structure is one of resonance and resilience. It stands strong and proud.
As with the Eameses' work, a sense of openness and play, paired with rigor, pervades all that Adjaye does. From his firm's offices in Accra, New York, and London, Adjaye and his team are now developing projects ranging from the Abrahamic Family House complex (comprising a mosque, a synagogue, and church all on the same site) in Abu Dhabi, to the Newton Enslaved Burial Ground Memorial in Barbados, to the Thabo Mbeki Presidential Library in South Africa, to the Princeton University Art Museum in New Jersey. Through the breathtaking magnitude of his reach and impact—socially, culturally, architecturally—Adjaye continues to forge new, plural ways of being, seeing, thinking, feeling, and sensing in the world. His vast body of work is poised to transform lives for generations to come.
Q: What is your definition of design?
A: Design in the 21st century is the inquiry into the relevance of making things for the world. Design is about finding new possibilities that elevate the human experience.
Q: Is design an expression of art?
A: Design is an art form; a form that can act as a tool for the evolution of humanity.
Q: What are the boundaries of design?
A: There are no boundaries.
Q: Is design a discipline that concerns itself with only one part of the environment?
A: Design is about everything to do with the reality of human beings and their relationship to the planet.
Q: Is design a creation of an individual or a group?
A: Design oscillates between thinking independently, testing through peers, and then returning inwards for refinement and further articulation.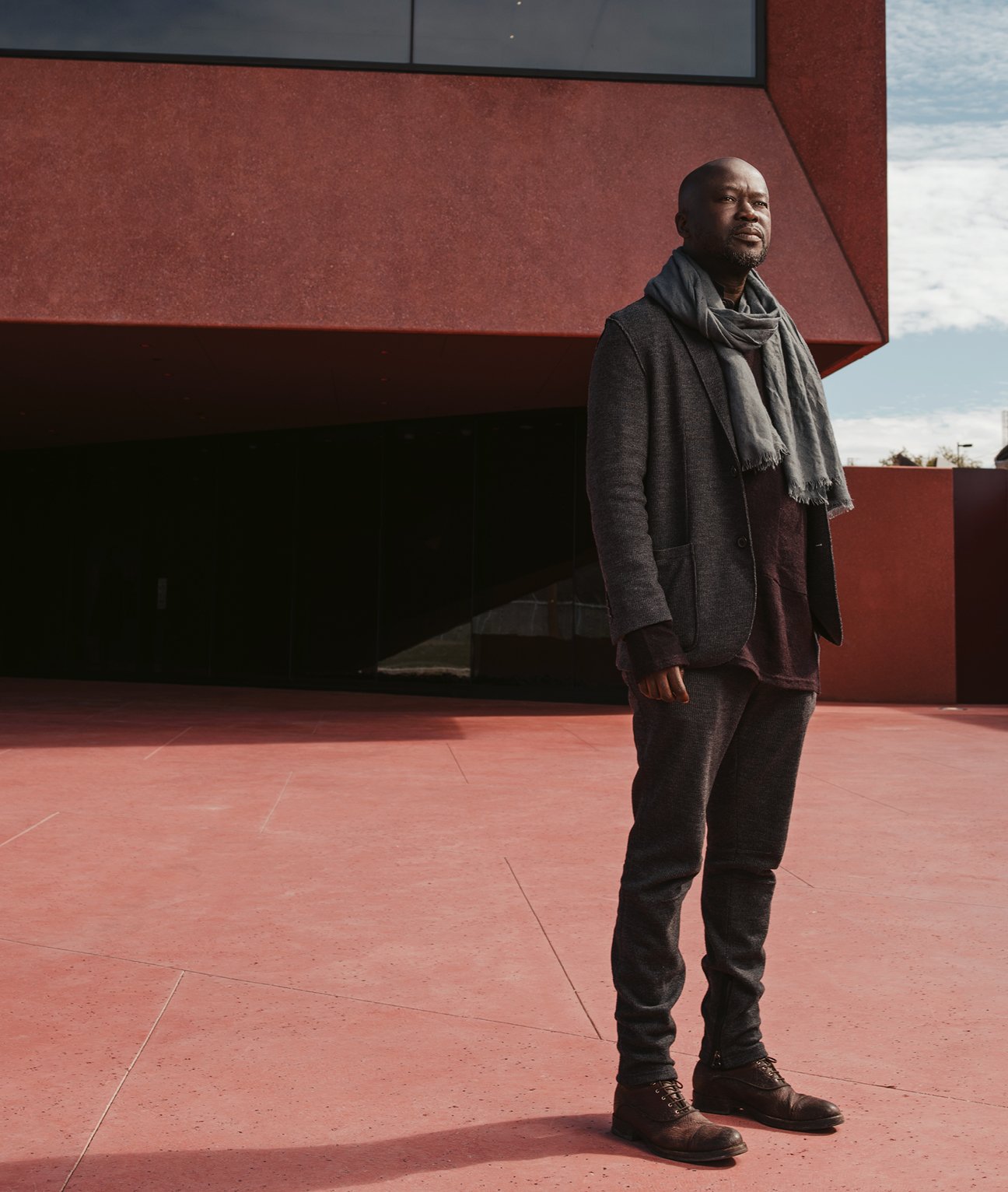 Design in the 21st century is the inquiry into the relevance of making things for the world—about finding new possibilities that elevate the human experience.
Sir David Adjaye OBE
Founder and Principal
Adjaye Associates
Photograph © Josh Huskin
Q: Is there a design ethic?
A: There is always a moral code in design.
Q: Does design imply the idea of objects that are necessarily useful?
A: Design can be about useful objects or simply beautiful forms.
Q: Is it able to cooperate in the creation of works reserved solely for pleasure?
A: Yes.
Q: Ought form to derive from the analysis of function?
A: Certainly this is one way of understanding design, but it is not the only way.
Q: Can the computer substitute for the designer?
A: Never.
Q: Does design imply industrial manufacture?
A: It can.
Q: Is design used to modify an old object through new techniques?
A: Definitely.
Q: Is design an element of industrial policy?
A: It can be, but not always.
Q: Does the creation of design admit constraint, and if so, what constraints?
A: By eliminating other possibilities, it creates its own limitations and finds resolutions within those constraints.
Q: Does design obey laws?
A: Yes, but it can also push boundaries.
Q: Ought design tend toward the ephemeral or toward permanence?
A: It depends on the context of the design idea.
Q: To whom does design address itself: To the greatest number? To the specialists or the enlightened amateur? To a privileged social class?
A: Design operates at all these levels, but in the age of the Fourth Industrial Revolution, design tailors itself and is no longer about mass production. In the 19th and 20th centuries, products were for everyone, but the introduction of emerging new technologies—from artificial intelligence to virtual reality to robotics to augmented reality, etc.—forces design to adapt to these new conditions. There is a splintering that occurs that makes design ever relevant for some things but not for all things.
Q: Have you been forced to accept compromises while practicing the profession of "design"?
A: To think of compromise as compromise is a structural problem that can lead to a dead end. There are only negotiations to get to the optimal goal (or not).
Q: What do you feel is the primary condition for the practice of design and for its propagation?
A: Open creativity, a sense of the diversity of histories, and an understanding of the fragility and limited resources of our planet.
Q: What is the future of design?
A: Inclusion. ❤